Quality Control Based on
ISO 9001:2015
Purified by Recrystallization
(Water for dissolving raw materials is purified in our company.)
CAS Registry Number®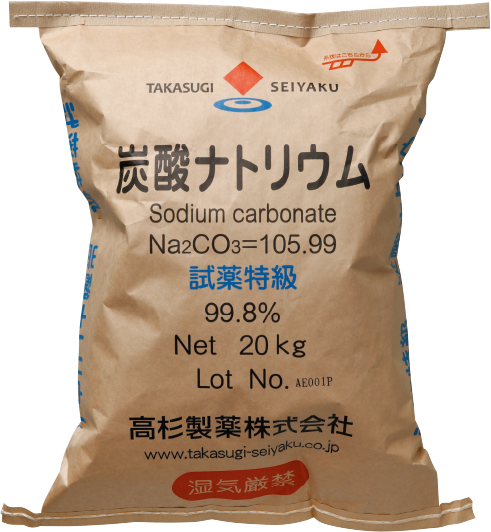 Sodium Carbonate, Anhydrous
Description
Anhydrous sodium carbonate occurs as white crystals or crystalline powder .
It is freely soluble in water, and practically insoluble in ethanol (95) and in diethyl ether.
An aqueous solution (1 in 10) is alkaline.
It is hygroscopic.
Uses
Manufacturing glass
Processing wood pulp to make paper
Making soaps and detergents
Refining aluminum
Water softening
Product List
↓Please click the underlined parts to see specifications.
JIS*: Japanese Industrial Standards
JP**: Japanese Pharmacopoeia
paper bag***: 3ply kraft paper bag with a laminated film [film: PET(12 micrometers)/PE(15 micrometers)/AL(7 micrometers)/PE(15 micrometers)/LDPE(40 micrometers)] paper bag****: 3ply kraft paper bag with polyethylene film